Specifications of exterior decorative honeycomb aluminum panel
| | |
| --- | --- |
| Parameter | Detail |
| Aluminum Foil Model | 1101, 3003, 5052 |
| Aluminum Foil Thickness (mm) | 0.036,0.04,0.05,0.06,0.07,0.08,0.1,0.2 |
| Aluminum Honeycomb Core Cell Size (mm) | 4.75--25 |
| Function | Anti-Static, Antibacterial, Fireproof, Mould-Proof, Anti-Static,Fireproof, Antibacterial |
| Surface Treatment | Anodized, Brushed, Foil Decoration, Mirror, PE Coated, Printing, PVDF Coated etc. |
| Application | Furniture,Building,Electrical and Transportation Industries. |

Features of exterior decorative honeycomb aluminum panel


1. Light weight, high strength: The structure of gathered honeycomb cores shows more excellent strength and more consistent rigidity than materials of the same density.
2. Waterproof, Fireproof, soundproof, shock-proof and rust-proof
3. Extraordinarily high degree of flatness: unique structure of honeycomb improve the degree of surface flatness of the panels
4. Environmental: honeycomb board is made of aluminum which is recyclable and volatilizes no harmful gas.
7. Easy to install and dismantle: This helps to eliminate panel distortion caused by temperature changes and guarantee sealing effect against gas and water. Our sealing methods protects glues against short service life and enable the honeycomb panels to be installed on various keels in a graceful way.
Application of exterior decorative honeycomb aluminum panel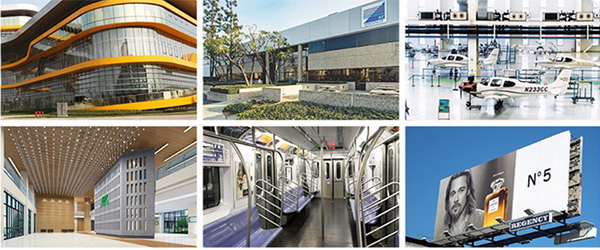 Haomei honeycomb panel covers an wide range of industrial applications for
1. lightweight containers,
2. machine tool cabin,
3. wind tunnels, platform lifts,
4. elevators,
5. electric appliance,
6. lamps,
7. audio products,
8. transport vehicles etc.