Specifications of Aluminium Honeycomb Composite Panel
Aluminium honeycomb composite panel is obtained by processing aluminum base plate into board with hexagonal honeycomb spaces using vacuum compounding.
Aluminium honeycomb composite panel has the advantages of low density, sound insulation,heat insulation, non combustible material, with grade A2 fireproof , waterproof, moisture-proof, no harmful gas release, high specific stiffness, not easy to deformation, high flatness and good anti-seismic performance.
Aluminum skin thickness:
0.5mm-1.2mm.
Honeycomb core:
thickness0.06-0.08mm, Side length 6-10mm, height 8-50mm.
Total panel thickness:
10mm-50mm.

Width:
600mm,800mm,1000mm,1220mm (regular), 1250mm,1300mm,1500mm,1550mm, 1575mm,2000mm(maximum);
Length:
≤8000mm
Standard size:
1220mm (Width) ×2440mm (Length).
Surface Treatment:
PVDF coating and PE coating.
Non-standard sizes and special colors (RAL or PANTONE) are available depending on customers' offers.

Characteristics of Aluminium Honeycomb Composite Panel
1.Strict quality control and advanced process: fore-rolling coating, pre-baking finish, roller-pressing technology.
2.Optional surface treatment: rich colors /PVDF/polyester;
3.Large dimensional panels (Max 5000mm x 1500mm) and precise dimension.
4.High strength: no need for reinforcement measures.
5.Light weight: a honeycomb panel of 25mm thick weighs only 5.6kg/m2.
6.Flat surface and perfect installation system: This helps to eliminate panel distortion caused by temperature changes and guarantee sealing effect against gas and water. Our sealing methods protects glues against short service life and enable the honeycomb panels to be installed on various keels in a graceful way.

7.Excellent productive capability: Irregular panels, such as arc-shaped, folded and trapezoid panels, will be designed and produced as per the special designing requirements. Non-plane irregular panels including arc shape, L-shape, U-shape are formed in one mould.
8.No color difference: The same lot roller-coated aluminum sheets are to be used for one project. Meanwhile the reasonable interior wall and ceiling installation guarantees each panel sheet to be easily and separately dismantled for maintenance service.
Application of Aluminium Honeycomb Composite Panel
in Architecture and Other Areas
Combining tensile strength of cover sheets and outstanding aesthetic features, Haomei honeycomb panels have won great popularity with architects. Clean and easily fabricated with perfect details, the panels serve as ideal raw materials for innovative artistic ceilings, wall claddings and even interior decoration in not a few creative designs.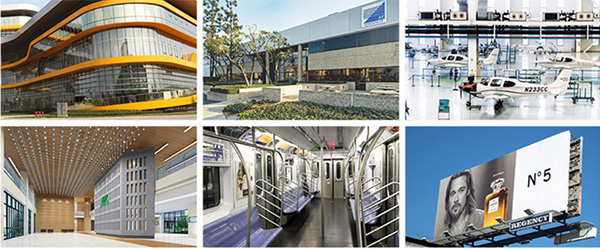 (1) the building curtain wall
(2) interior decoration project
(3) billboard
(4) on board building
(5) aviation manufacturing
(6) indoor partition and commodity display
(7) commercial transport vehicles and container vehicles
(8) buses, trains, subways and rail vehicles
(9) For environmental requirements are very strict modern furniture industry, aluminum honeycomb panel is a good choice materials
(10) aluminum honeycomb panel partition