Specification of Honeycomb Panel for Display Platforms Signboards

Thickness of aluminum sheet
0.6,0.8,1.0mm
Honeycomb panel thickness
8-50mm
Panel width
1220mm
Standard size(W*L*T)
1220*2440*10mm
1220*2440*12mm
1220*2440*15mm
1220*2440*20mm
Color
As customer request
Surface Treatment
Anodized, Brushed, Foil Decoration, Mirror, PE Coated, Printing, PVDF Coated
Core
aluminum honeycomb core
Coating
PVDF,PE
Characteristics of Honeycomb Panel for Display Platforms Signboards

1.Strict quality control and advanced process: fore-rolling coating, pre-baking finish, roller-pressing technology.
2.Optional surface treatment: rich colors /PVDF/polyester;
3.Large dimensional panels (Max 5000mm x 1500mm) and precise dimension.
4.High strength: no need for reinforcement measures.
5.Light weight: a honeycomb panel of 25mm thick weighs only 5.6kg/m2.
6.Flat surface and perfect installation system: This helps to eliminate panel distortion caused by temperature changes and guarantee sealing effect against gas and water. Our sealing methods protects glues against short service life and enable the honeycomb panels to be installed on various keels in a graceful way.
7.Excellent productive capability: Irregular panels, such as arc-shaped, folded and trapezoid panels, will be designed and produced as per the special designing requirements. Non-plane irregular panels including arc shape, L-shape, U-shape are formed in one mould.
8.No color difference: The same lot roller-coated aluminum sheets are to be used for one project. Meanwhile the reasonable interior wall and ceiling installation guarantees each panel sheet to be easily and separately dismantled for maintenance service.
Application of of Honeycomb Panel for Display Platforms Signboards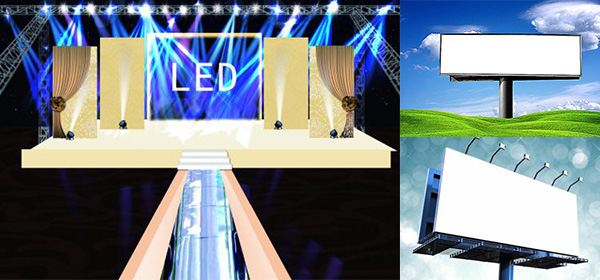 Haomei aluminum honeycomb panels offer a lightweight structural backing for graphics, signage, or other decorative material. They are used extensively in the construction of point of purchase displays and trade show exhibits due to their excellent durability and light weight. The panels are also very structurally sound and meet most ratings for fire control.