Our aluminum honeycomb panel mechanical properties are as below.
  1. Light weight
  The aluminum honeycomb core is an aluminium hexagonal honeycomb with a small density (about 3-7 kg per square metre). It is one fifth of the weight of the board with the same thickness and area, one sixth of the glass, one seventh of the aluminium material and one eighth of the glass. The weight of an aluminium honeycomb panel with the same stiffness is only 1/5 of that of aluminium plate and 1/10 of that of steel plate. The total thickness of an alu honeycomb panel is 15 mm, the face 1.0 mm and the bottom 0.8 mm, then the total weight of the whole panel is only 6 kg/m2. This greatly reduces the building load and cost.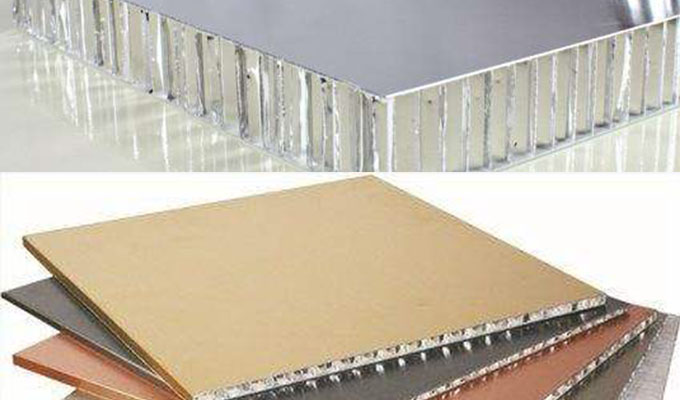 2. Strong Stiffness
  The unit mass of an aluminum honeycomb panel has a high specific strength and stiffness (the structural stiffness is 1.7 times of that of rib-type), and it has good flatness, which enables it to completely overcome the shortcomings of other decorative panels such as deformation and middle collapse when the single area is large. The interconnected honeycomb cores are like numerous I-beams. The core layers are distributed and fixed in the whole plate surface. It is not easy to produce shear, which makes the plate more stable, flexural and compressive. The wind pressure of the aluminum honeycomb cores is much higher than that of the aluminum-plastic plate and the aluminum veneer. The load of 22 mm thick standard parts can reach more than 700 kg when the deflection is 10 mm and the support is 1 meter.
  3. Corrosion resistance
  After the surface is treated with fluorocarbon resin with strong corrosion resistance, aluminum honeycomb panels can be widely used in the decoration of curtain walls, roofs, large facade signs and interior walls of buildings. Aluminum honeycomb front panel is made of PVDF fluorocarbon paint which meets the quality standard of E. C. C. A. and is divided into common colors and metal colors. Therefore, the surface also has excellent weather resistance.
  4. Excellent Sound and Heat Insulation
  Even if the size of an aluminum honeycomb panel is very large, it can achieve very high flatness. Because the honeycomb core is divided into many enclosed chambers, which prevents air flow and greatly hinders heat and sound waves, it has the effect of heat insulation, heat preservation and sound insulation. For 100-3200HZ sound source, the long bath can reach 20-30dB, and the thermal conductivity is 0.104-0.130W/M.K. Therefore, the energy absorption capacity of aluminum honeycomb panel is 150-3500KJ/M². It is an ideal energy-saving material. In case of heavy rain, raindrops on the surface of aluminum veneers or aluminum-plastic panels are particularly noisy, and honeycomb panels avoid this situation.